How to Stay in Japan as Cheap as Possible
Special discount offer for long stay tourists for those who look for a shared house, flatshare or apartment in Shiga, Osaka, Kyoto, Wakayama, Hiroshima and Fukuoka, you can stay in our hostels for cheap and long time! Some campaigns are for a limited time only. Do not miss this opportunity!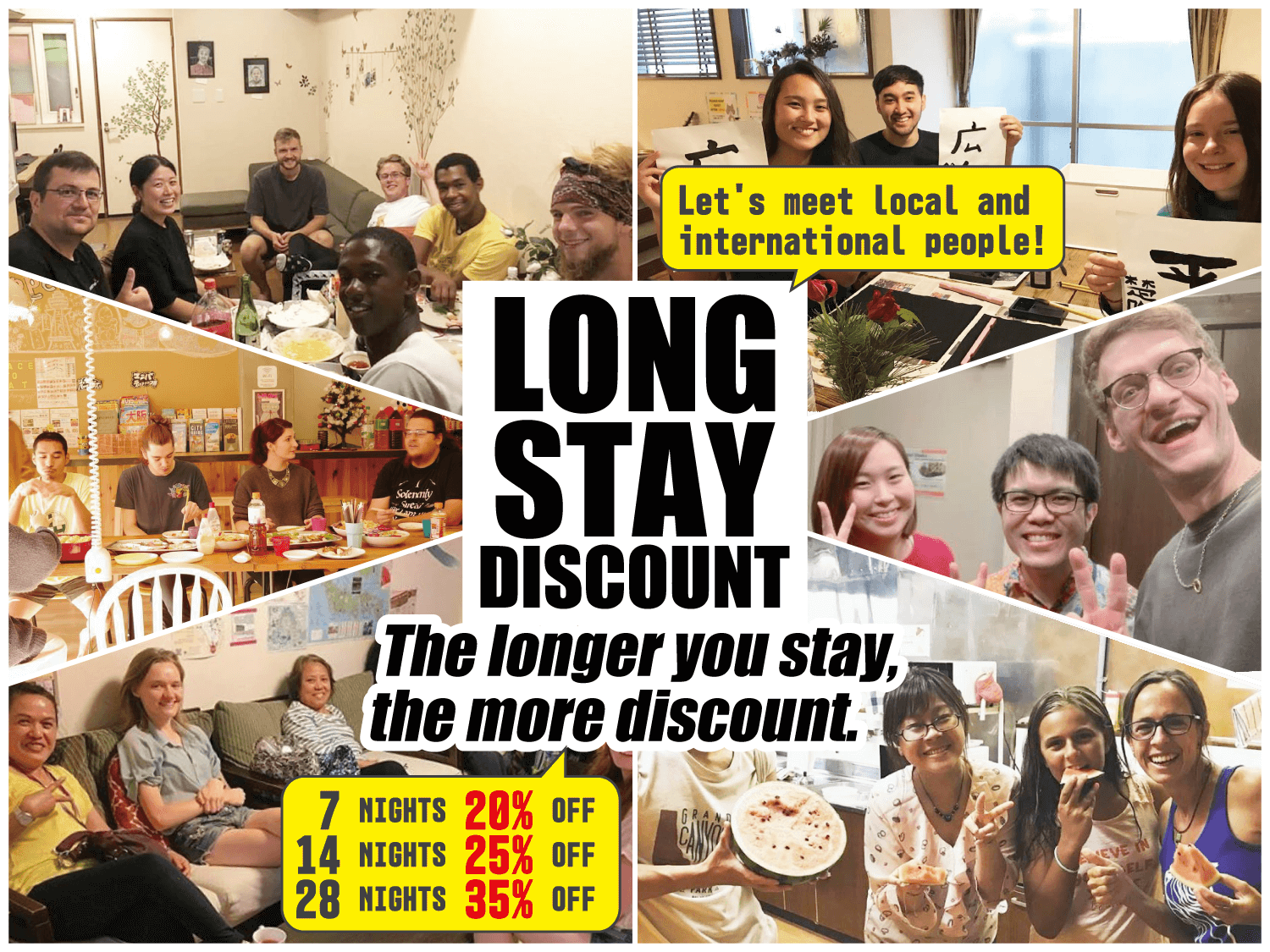 Special Rate Package for extended-stays
This special plan is recommended for those who are planning to stay at the hostel / guesthouse for a long time. It is also recommended for those who want to stay in a shared house or monthly apartment in Takayama, Shiga, Kyoto, Osaka, Wakayama, Hiroshima or Fukuoka for a short period of one week to one month. There is no initial cost such as security deposit and key money, and you can start your stay with one bag.
7 NIGHTS PACKAGE:

20% Discount

for staying in between 7 and 13 nights.
14 NIGHTS PACKAGE:

25% Discount

for staying in between 14 and 27 nights
28 NIGHTS PACKAGE:

35% Discount

for staying 28 nights or more
How to Apply

Attention
In order to get this special deal, you need to book your stay with us through our website or telephone (Using other websites will not give you access to this deal).
This special deal is valid until the end of June 2020.
We are excluded from some days such as busy season.
You need to book as one continuous stay, meaning that if you book for 14 nights, all the days will be in a row.
You need to pay the full amount due at the time of your check in.
If you are interested in using this deal at multiple locations, please send your request to the following e-mail.
e.g., with a 14 NIGHTS PACKAGE, you can stay 3 nights in Fukuoka, 5 nights in Osaka and 7 nights in Kyoto.(total:15 nights)
e.g., with a 7 NIGHTS PACKAGE, you can stay 4 nights in Kyoto, 5 nights in Osaka.(total:9 nights)
The Hostel is Ideal Place for Long Stay!
Planning on visiting Japan? Come join us at J-hoppers! The longer you stay, the more discount for you. This is a great opportunity to meet local and international people, while experiencing life in Japan!:D
Why stay at J-hoppers?
Establish relationships with local and international people.
Staff are always on-site.
On-site coin laundry and dryer (free detergent and rental iron also available).
Free wifi and common computer for you to use.
We provide recommendations of what you can do during your stay.
We can assist you in setting up your life for a long-term stay in Japan.



Cancellation

The following rules apply when canceling a reservation.